Avoiding Travel Scams
Sep 12 2013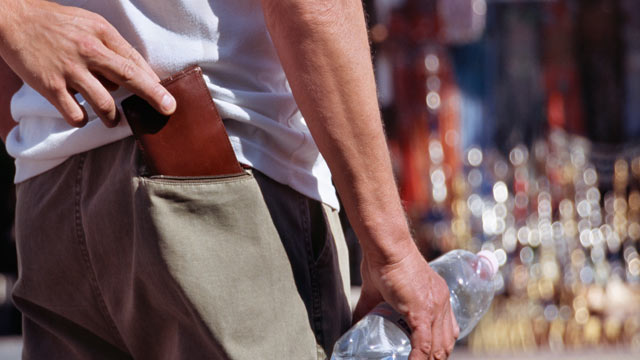 The best way to ruin your holiday is to be caught up in a scam or losing your wallet or purse to a pickpocket. Here are some tips to avoid being a victim.
Pickpockets in Europe - The creation of the European Union has opened borders but also allow gypsies and professional pickpocket teams to roam freely around the continent. Cities such as Athens, Rome, Barceleona and Paris are well known hotspots. Thieves use a combination of distraction and sleight of hand to relieve you of your belongings. They often work in teams - one to distract you, second to lift your wallet, and third person to handoff the wallet to. Carry your backpacks in front of your body. If using a money belt, keep a secondary wallet for small bills and don't pull out your money belt in public. Use a safety pin to close off your front pocket holding your wallet and keep your hand on your wallet in metro stations, crowded areas and when boarding or exiting a bus. Avoid carrying valuables in purses, bags and packs and leave your jewellery in your cabin/room safe or at home. Also, be aware when using ATM's since thieves could grab your money as soon as it is dispensed.
Clip Joints - This scam starts with a friendly local starting a conversation with you and then inviting you to a nearby bar for a drink. When the bill comes, it is massive, though your new friend offers to split it with you. In Athens, a well-dressed gentleman with a gold watch, George, hangs out by the Akropoli metro. A variation in China are locals hanging out by the Shanghai Museum wanting to practice their English and invite you to participate in a traditional tea ceremony.
Gold Ring Scam - Found on the streets of Paris, scammers hang out near the Eiffel Tower. Person walking in front of you "finds" a "gold" ring on the street and offers to sell it to you.
Milk Powder Scam - You're in Mumbai admiring the Gateway of India and you are approached by a beggar. She doesn't want money, but instead, requests milk powder for her baby. Sounding reasonable and being a decent human being, you follow her to a nearby shop where you purchase some seemingly overpriced powder. When you leave, the powder gets put back on the shelf and the shop owner splits the profit with the beggar.
Free souvenirs - In Egypt, souvenir sellers will place something in your hand. In Italy, African sellers tie bracelets to your wrist which are not easily removed. They'll want a tip for this "free" item.
Thailand Gem Scam - Known in tourist brochures as the Land of Smiles, the slogan should be changed to the Land of Scammers. With all the scams in Thailand, there should be an entire article devoted to them. The most common scam is the Gem Scam using an intricate network of seemingly random people. This scam starts with a friendly local approaching you near the Grand Palace or Wat Po telling you the palace or temple is closed in the morning for a Buddhist ceremony but will be open in the afternoon. They suggest an itinerary for you and flag down a "licensed" tuk-tuk driver for an unbelievably cheap tour. One of the first stops will be an unusually quiet local temple where a local inside will strike up a conversation with you. He will tell a story of buying gemstones in Thailand that can be sold outside the country at huge profits. Your next stop is coincidentally, a "government-licensed" export center selling gems and jewellry where you will be give a high-pressure sales pitch.
Thailand Travel Agent - At Phuket Airport, you sign up for a shared minivan service into town. If you indicate you don't have a hotel reserved, you are taken to a travel agent where you can book some overpriced rooms.
Thailand/Cambodia Border Scam - Taking the government bus from Bangkok to Siem Reap, you stop at an office to get your visa on arrival. The visas obtained here are double what they would cost at the border though Cambodian border officials will also want an unofficial surcharge or tip. Luckily, you can get an evisa online and avoid all this mess.
Time Shares - You arrive at the airport in Puerto Vallarta and as you exit customs, you pass a hall with counters on both sides with colorful art but surprisingly no signage. The staff appear to be offering tourist information or transportion but they are actually there to get you to attend a time share presentation. Time share salesman also setup kiosks on the street seeming to offer tours or tourist information.
Taxis - Taxis are notorious for scamming tourists worldwide. Common tactics include taking the long route or charging a higher fixed fare versus using a meter. Drivers have been known to rig meters, swap bills with counterfeit or smaller denominations blaming the passenger, and stop at tourist shops where they are paid commission. To avoid taxi troubles, use public transit where possible. If a taxi can't be avoided, try to find out the approximate fare for the route you want to take, suggest a route so you don't look like a tourist, count your money for the driver and try to have exact change. Use sites like worldtaximeter.com to get an estimate on fares.
In general, be wary of locals approaching you at tourist attractions. Ask yourself what do they really want? If something seems unusual or unbelievably cheap, trust your intuition. Thieves and scammers will prey on easy targets so try not too look like one.
Comments