Beijing, China
Forbidden City, Beijing
Introduction
Beijing is the capital of China.
Visas
Citizens of most nationalities will need a visa to visit China including American crew members. The number of entries depends on how many times your ship leaves China and enters a non-Chinese port. The Chinese consulate does not like to issue multi-entry visas so provide them with your itinerary when applying for the visa. In 2015, new 10 year visas were introduced at the same cost of short term visas.
As of Dec 2017, air passengers from most countries transiting through the airport do not require visas for stays under 144 hours. Visitors must arrive from and depart to different countries through the airport. You will need to obtain the visa (blue form) at a separate kiosk before heading through immigration. https://www.travelchinaguide.com/cityguides/beijing/144hours-visa-free.htm
Embarking and disembarking cruise passengers transiting through the airport with a stay of less than 24 hours may be exempt from visa requirements. Please check with your consulate or embassy since this maybe a new change.
Where You're Docked
Cruises that turnaround in Beijing actually use the port in the Tianjin region near the town of Tanggu. See the Tianjin page for details.
Money and Tipping
China's currency is the Yuan (CNY) but it may also be referred as Renminbi (RMB). Money exchange in China is regulated by the government and you can change money at any bank with a passport. ATM's are readily available as well. Tipping is not a common practise in China. The smaller one coin is worth Y0.1 (not to be confused with the larger 1 Yuan coin or 1 Yuan note) and the 5 coin worth Y0.50. One Yuan coins are less popular in Beijing (vs Shanghai). You will notice that shopkeepers check the 100 Yuan notes carefully checking for counterfeit bills. Here is a guide for spotting counterfeit money. http://www.xian-travel.com/china-travel-guides/chinesemoney/

Getting To/From the Airport
Beijing's Capital Airport (PEK) has the world's second largest terminal at T3. You can ride the Airport Express to downtown in 30 minutes for 25 RMB and connect with other subways lines. PEK airport is running at capacity so a new airport is being built south of the city with a scheduled completion date in 2019.
Local Transportation
Taxis are inexpensive in Beijing. Daytime rate is Y10 for the first three kilometers, Y2 each additional kilometer. Rates increase slightly in the evening and for longer trips. Most taxi drivers do not speak English so make sure you have your destination written out in Chinese. Also make sure your driver uses the meter.
The metro is a fast and cheap way to get around though stations tend to be fairly spread out. Fares depend on distance traveled and start at Y3. Ticket machines have English menus. All take coins and but some will only take 5 or 10 Yuan bills only so check on the machine. Change can be obtained from staffed counters if the machine will not take your larger bills. Tap the card to enter a station and insert it into the gate to exit where it gets returned.
Hotels
Search hotels in Beijing here
Sights
Great Wall of China - The wall has many sections with Badling the most popular from Beijing. Transportation options here http://www.beijingholiday.com/transportation/how-to-get-to-badaling.html
Tiannamen Square - free to enter though you need to pass security. You can visit Mao's tomb but bags and photos are not allowed inside (bag check across the street).
Forbidden City- You can go through several courtyards before you will need a ticket to continue. Different buildings on the site also have separate entry fees.
Temple of Heaven - ticket is required for either the grounds only or to walk through the temples. Located south of Tiannamen Square. The three other temple complexes (Temple of Sun, Earth and Moon) are further from the city and less popular.
Beijing Zoo - most people come here to see the pandas but standards for treating animals may be lower than those in the west
Summer Palace - large complex northwest of the city center
Shopping & Restaurants
Wangfujing - a pedestrian shopping street east of the Forbidden City. The Wangfujing Snack Street, located in hutongs just west of the main street is densely packed with restaurants and street food stalls. Opens at 11am. APM is a large modern mall in the area with a equally large food court. Oriental Plaza Mall as at the south end with a Food Repulic food court.
New Silk Market/Xiu Shui - Shanghai's fake market with indoor shopping mall. Approx two miles east of the Forbidden City. Metro Yonganli.
Xidan Beidajie - Another shopping street one mile west of Tiannamen. This street has both markets and malls.
Hong Qiao Pearl Market - Famous for pearls but has souvenirs and a large toy market. Northeast corner of Temple of Heaven. Metro Ciqikou.
Panjiayuan Market - A large weekend only antique and flea market
Beijing's most famous dish is roast duck. Several recommended restaurants include
Liqun Roast Duck Restaurant - a small restaurant promoted in guide books and on travel shows
Bianyifang - Chain with multiple locations.
Dadong Roast Duck - Chain with a fast food outlet serving duck burgers at China Central Place.
Quanjude - Famous chain with 150 year history. Locations include a large 600 seat restaurant near Hepingmen Gate (Peace Gate), Wangfujing Pedestrian street, and original restaurant on Qianmen Street.
In general, restaurants don't provide napkins and washrooms don't have soap or toilet paper and may have squat toilets. Always travel with a pack of tissues and some hand sanitizer.
Internet
Cafes and restaurants may provide free wifi for customers. Google, gmail and facebook are all blocked in China. It is recommended to use a VPN to get around it.
Maps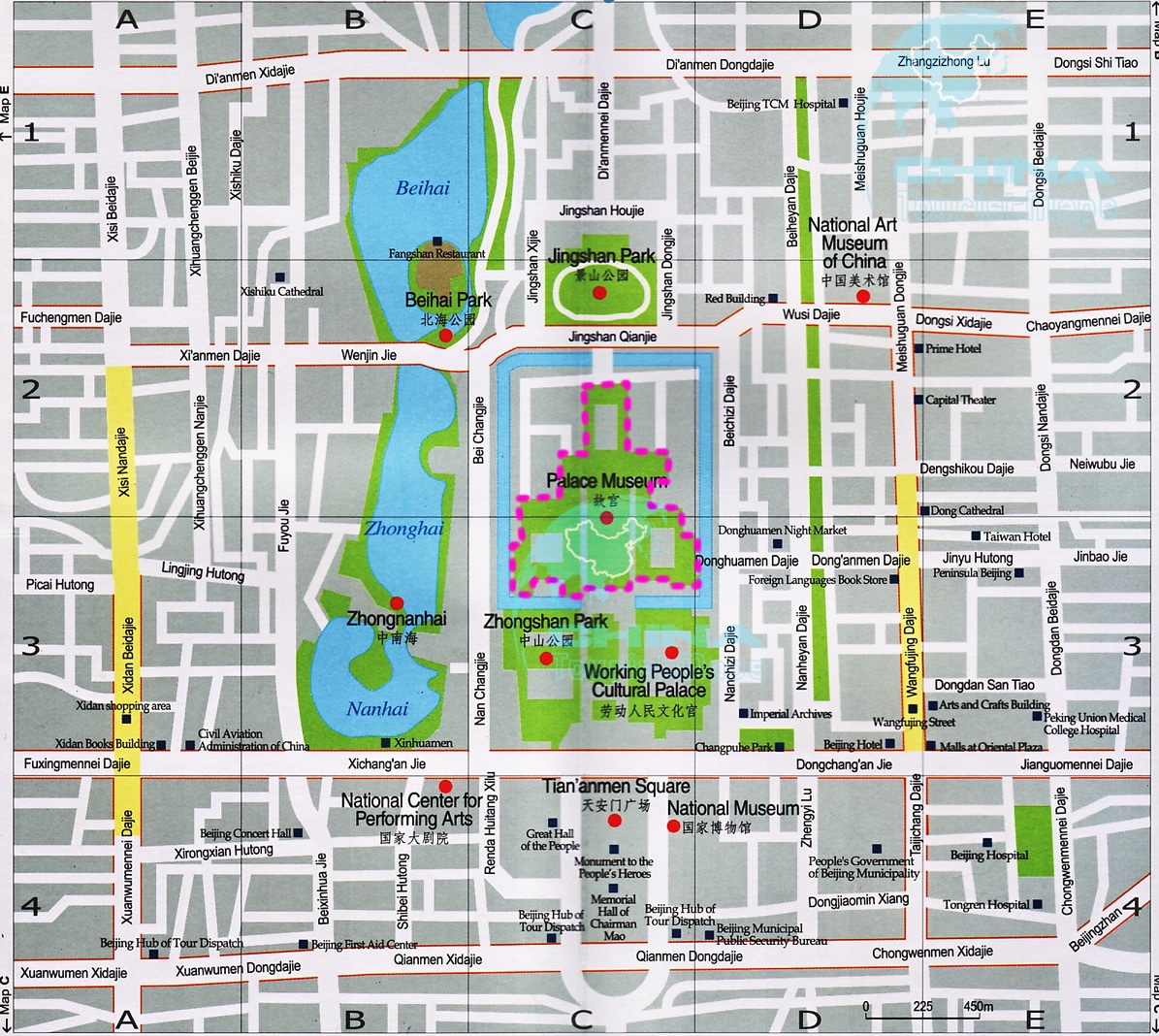 http://mappery.com/maps/Beijing-Tourist-Map.pdf
Weather
Beijing Weather Forecast
Comments