Bermuda
Horseshoe Bay Beach
Introduction
While technically not in the Caribbean, Bermuda is a British territory warmed by the gulf stream. The island is shaped like a barbed fish hook.
Where You're Docked
Small cruise ships may dock at the capital of Hamilton or the town of St George. Larger ships dock at King's Wharf in Dockyards, the old naval dockyards, located at the tip of the hook.
Money and Tipping
Bermuda's currency is the Bermuda Dollar pegged 1:1 to the US dollar. US dollars are widely accepted. If service charge is NOT added to your bill, tipping 15-20% is normal.

Local Transportation
Bermuda has an excellent system of buses and ferries. If you're in Dockyards, extra buses are usually provided when a large ship is in to take you to Horseshoe Bay and there should be extra sailings to Hamilton on the ferry. Private operators may also run buses to Horseshoe Bay. There should be a kiosk set up the pier to buy bus/ferry tokens or day passes. Prices are $3 for the bus ($2.50 using token), $4.50 for the ferry, and $12 (Nov 2011) for a day pass (good for ferry and bus). You can find the bus and ferry schedules and maps here. http://www.gov.bm
A good itinerary is to take the bus to Horseshoe Bay first. Next, catch the bus to Hamilton and return to Dockyards by ferry.
Hotels
Search hotels in Bermuda here
Sights
Hamilton - Bermuda's present capital. Accessible by bus or more directly by ferry.
Horseshoe Bay Beach - This pink sand beach is considered one of the world's top beaches. There is a snack bar, toilets and change rooms by the entrance. If taking the bus, there is a small hill to get down to the beach. A private shuttle service may offer to take you up the small hill for a $3 (Nov 2011).
Saint George - This town is the oldest surviving English town in the New World. Accessible by bus or more directly by ferry. Tobacco Bay beach is a 15 minute uphill walk from town.
Shopping & Restaurants
Dockyards has a small mall and a drugstore with some groceries. There are more shopping options in Hamilton and St George. The MarketPlace supermarket can be found on 42 Church St in downtown Hamilton down the street from the main post office.
Maps (right-click to save)
Bermuda Island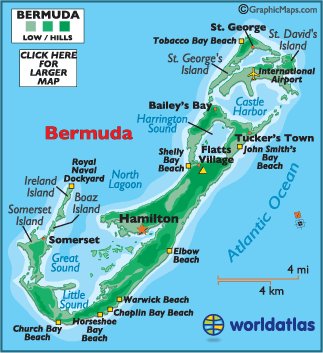 Downtown Hamilton
Dockyards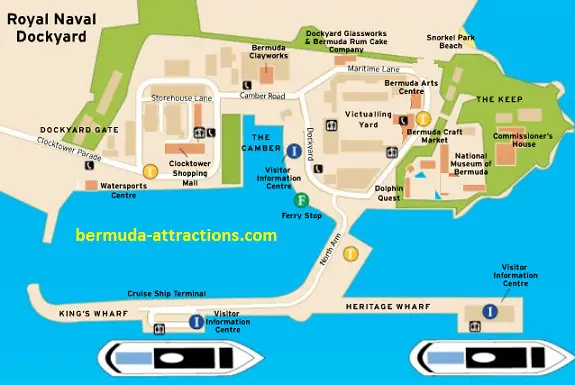 PDF Maps
Weather
Bermuda Weather Forecast
Comments