Bora Bora, French Polynesia
Matira Beach
Introduction
Bora Bora is one of the most beautiful islands in the South Pacific. Surrounded almost entirely by an offshore reef, the protected lagoon is abundant with sea life. Luxury resorts dot the reef with spectacular overwater bungalows.
Where You're Docked
Cruise ships anchor and tender to the small town of Vaitape.
Vaitape Pier

View Larger Map
Money and Tipping
Bora Bora's currency is the French Polynesian Franc (XPF). US dollars are widely accepted. There are banks and ATM's in town though banks may not be open on Sunday.

Local Transportation
You can sign up for tours at the pier including lagoon cruises and circle island tours. Various companies offer shuttle services to Matira beach or Bloody Mary's for $5 USD one way. You can rent a car in Vaitape as well. Tours can also be arranged on shore.
Hotels
Search hotels in Bora Bora here
Sights
Matira Beach - One of the most beautiful beaches in the world with clear and calm water (unless it is windy or stormy).
Bloody Mary's - This restaurant is famous for being visited by celebrities and having a sand floor.
Lagoonarium - Take this tour for an opportunity to swim with sharks and stingrays.
Shopping & Restaurants
In Vaitape there is a small supermarket where you can stock up on beer before heading to the beach, a small handicraft market and lots of black pearl stores.
Maps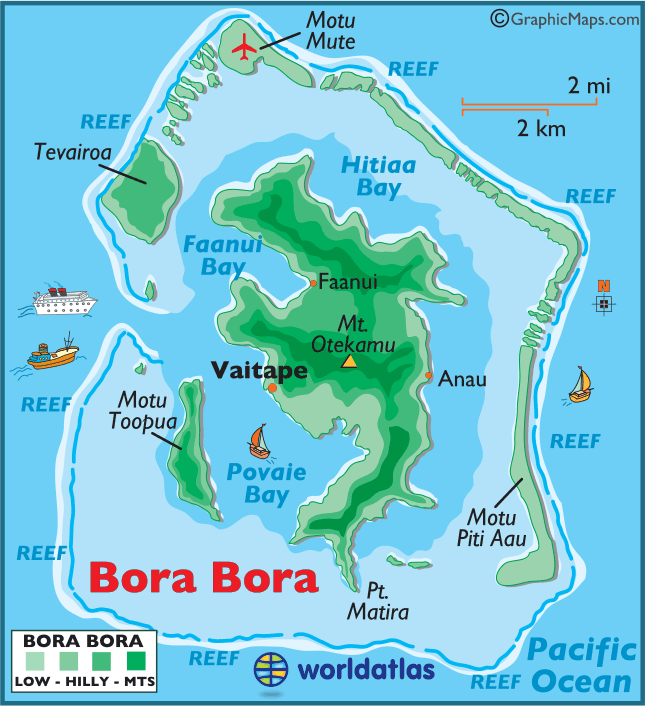 Weather
Comments