Cozumel, Mexico
Puerta Maya Pier
Introduction
Cozumel is located on an island and is a favorite cruise ship port in the Yucatan peninsula. Cruise ships dock by the city of San Miguel which is a ferry ride away from the equally busy Playa del Carmen and 50 miles south of the major resort of Cancun.
Where You're Docked
Several piers are available for cruise ships in Cozumel. Punta Langosta is the most convenient and in the southern part of the downtown area with a mall across the street. The adjacent San Miguel Pier is used by Playa del Carmen ferries and tenders. TMM (Turistico) pier is 5-10 minutes south of the downtown area by taxi. Puerta Maya (primarily used by ships under Carnival Corp) is directly south of TMM pier and has a cruise center complex with shops and restaruants. Puerta Maya info with taxi rates and cruise schedule here. http://www.puertamaya.com
Money and Tipping
Mexico's currency is the Mexican Peso (MXN) though US dollars are widely accepted. You may get change back in Pesos however. You can exchange money at any bank with ID. A tip of 15-20% is expected when dining in restaurants. Taxi drivers do not expect to be tipped though a little extra is appreciated for good service.

Local Transportation
Ferries to Playa Del Carmen run hourly and travel time is around 45 minutes. http://www.playadelcarmentours.com/ferry-schedules.htm
Taxis from the southern piers to downtown Cozumel should cost around $6 USD.
Hotels
Search hotels in Cozumel here Search hotels in Playa Del Carmen here
Sights
Beaches - Many beaches circle the island with the majority on the west coast.
Diving - Cozumel is a famous diving and snorkeling area with many dive operators.
Shopping & Restaurants
Shops and restaurants can easily be found in downtown Cozumel and Puerta Maya.
Internet
Cafes and restaurants may provide free wifi for customers.
Maps (right-click to save)
Cozumel Island
San Miguel/Downtown Cozumel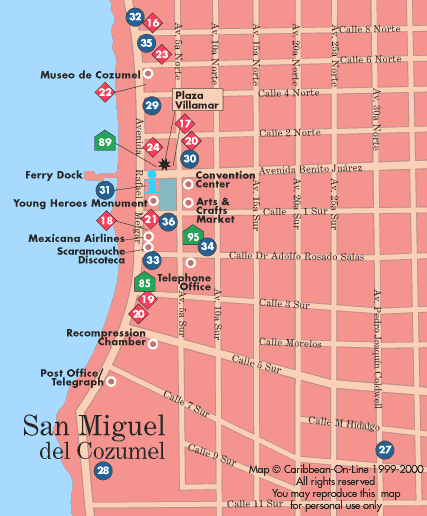 Playa del Carmen
Weather
Cozumel Weather Forecast
Comments