Honoulu, Hawaii
Waikiki Beach from Diamond Head
Introduction
Honoulu is the capital of Hawaii and is home to the world famous Waikiki Beach.
Where You're Docked
Cruise ships dock at either Pier 11 at Aloha Tower or Pier 2 (1/4 mile to the south and primarily used by NCL for Hawaiian cruises). Aloha Tower is conveniently located next to the downtown area and Aloha Tower Marketplace. https://www.alohatower.com/ Cruise schedule here for all Hawaiian ports (choose Oahu for Honolulu) https://hawaii.portcall.com/
Money and Tipping
Hawaii is a US state. When dining in restaurants, it is customary to leave 15-20% tip for good service since servers typically make minimum wage. Taxi drivers should be tipped the same rate. Banks and ATM's can be easily found downtown and in Waikiki.

Local Transportation
Honolulu has an extensive bus network called TheBus which can be confusing with the large number of routes. Fare is $3 (July 2022). You can prepay with a Holo card available at 7 Eleven or ABC stores with the card costing $2. With the Holo card, there is a $7.50 daily cap plus 2.5hrs for transfers. Most buses have an automatic system which announces the next stop. Google maps is the best resource for journey information by bus. https://www.thebus.org/ https://www.holocard.net/
There is a hop-on hop-off style trolley service as well. The red line stops at Aloha Tower. https://www.waikikitrolley.com/
From Aloha Tower, Walmart may offer a free shuttle.
Enterprise car rental has a location near the piers at 677 Ala Moana Blvd.
Lyft and Uber ride-hailing apps operate in Honolulu.
To/From the Airport
Honolulu International Airport (HNL) is located eight miles northwest of Waikiki Beach. There is public bus service though they don't allow large bags and don't have luggage racks. Transport options are listed here https://airports.hawaii.gov/hnl/
Hotels
Search hotels in Honolulu here
Sights
Waikiki - This area is the main tourist zone with hotels, malls, restaurants and Waikiki beach.
Pearl Harbor - Visiting the USS Arizona Memorial is free but you need to get a timed ticket and you will also need to pay to check in any large bags outside the gate. While waiting, you can wander around the exhibits or visit the USS Bowfin Submarine and the USS Missouri battleship (entrance fees required). https://www.nps.gov/valr/index.htm
Diamond Head - You can hike up the crater for great views of Honolulu. There is a small entrance fee. If you take the bus, there is a bit of a walk to get to the park entrance in the middle of the crater. https://dlnr.hawaii.gov/dsp/parks/oahu/diamond-head-state-monument/
Shopping & Restaurants
Ala Moana is the island's largest mall. Nearby to the north is a Walmart and Sam's Club. There is a Japanese food court, Shirokiya Japan Village Walk, here with $1 beers..
Hilo Hattie's (famous for their Hawaiian shirts) had financial difficulties in 2015 and closed many stores throughout Hawaii including their flagship store on Nimitz Hwy. They still operate online and have a few stores remaining including one at Ala Moana.
You can find macadamia nuts and chocolates at ABC stores (everywhere in Waikiki), Walmart, and Long's drugstores.
Aloha Tower Marketplace beside the pier has been converted as a campus for Hawaii Pacific University. A few restaurants remain including Hooter's and Old Spaghetti Factory.
The downtown area close to the pier has a Ross Dress for Less, Walmart (opened July 2014, old Macy's location, hours 6am to 10pm daily) and Long's drugstore. This area is very quiet and a bit dodgy at night. Walmart is a good option for both souvenirs and groceries.
Some big box stores such as Home Depot, Best Buy and Costco can be found off Nimitz Highway west of downtown.
Chinatown is right beside downtown to the north. There are two indoor markets: Oahu Market (corner of N King and Kekaulike) and Maunakea Marketplace (1120 Maunakea St) which has a food court as well.
For supermarkets, the downtown Walmart is the closest to the pier. There is a Safeway about 10 blocks to the east of the pier along Fort St. You can also get some groceries items at Long's. In Waikiki, there is a Food Pantry supermarket on Kuhio Ave. At Ala Moana, there is a Foodland supermarket and Long's in the mall and Walmart nearby.
The old International Market Place in Waikiki with it's stalls set among Banyan trees closed at the end of 2013. It re-opened in Aug 2016 as a modern shopping center with 90 stores and 10 restaurants. The offer a free cultural show every evening.
Aloha Stadium Swap Meet & Marketplace sets up Wednesdays, Saturdays and Sundays from 8am to 3pm. Located very close to the Arizona Memorial and with over 400 vendors. Continue on any bus from the Arizona Memorial two more stops to Aloha Stadium or take the VIP Trans shuttle from Waikiki. http://www.alohastadiumswapmeet.net/
Ward Centers is a complex of five malls with more than 130 stores, 40 restaurants, movie theaters and a Saturday morning farmer's market. Located west of Ala Moana mall.
Some recommended restaurants
Duke's Waikiki - right on the beach. 2335 Kalakaua Ave, Suite 116. Serves their famous Hula Pie.
Marukame Udon - Honolulu branches of a Japanese chain. Freshly made udon noodles, cafeteria style, inexpensive, and long lines at peak times. 2310 Kuhio Ave, Waikiki or 1104 Fort Street Mall, Downtown
For chinese food, try Legend Seafood (100 N Beretania St) or Happy Garden (1113 Maunakea St) for dim sum or Little Village Noodle on Smith St (all three in Chinatown). Hong Kong dim sum chain Tim Ho Wan recently opened a restaurant at Royal Hawaiian Center in Waikiki.
Teddy's Bigger Burgers - Located at 134 Kapahulu Ave near the Honolulu Zoo
Lulu's Waikiki - A beachfront American restaurant. 2586 Kalakaua Ave
Zippy's - a casual 24 hr chain considered a Hawaiian version of Denny's
Tonkatsu Ginza Bairin - Specializes in Japanese-style deep fried pork chops
Helena's Hawaiian Food - A popular local favorite.
JJ Dolans is an Irish pub serving NY-style pizza in Chinatown. 1147 Bethel St.
Internet
Aloha Tower Marketplace and the Pioneer Plaza food court across the street from Aloha Tower on Fort Street may have free wifi. The Apple store in Ala Moana has free internet. Restaurants and cafes may provide free wifi for customers.
Maps
Downtown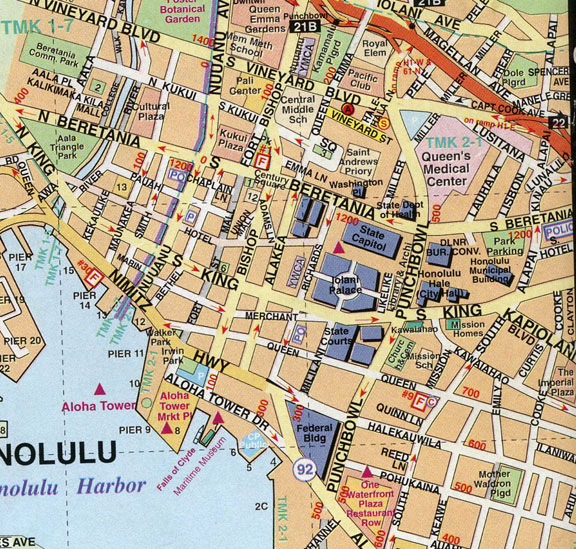 Waikiki
Weather
Honolulu Weather Forecast
Suggested Port Guides
Comments