Los Angeles, California
Downtown LA skyline
Introduction
Los Angeles is the turnaround port for many Mexican and Hawaiian cruises.
Where You're Docked
The World Cruise Center (berths B92 and B93) is located in San Pedro approximately 25 miles south of downtown LA and four miles west of Long Beach. With the USS Iowa taking over berth B91, B46 at the southern tip of the Outer Harbor is used (with a shuttle to the main terminal) when both of the main berths are occupied. World Cruise Center schedule here https://www.portsamerica.com/operations/services-cruise
Carnival Corp has a pier in Long Beach beside the Queen Mary with the old Spruce Goose hangar converted to a cruise terminal.
Getting To/From the Airport
The cruise terminal is 18 miles south of LAX. To use public transit from the airport, take the free "G" shuttle to Aviation/LAX Station. There is one kiosk on the west side of the station where the shuttle stops but two more kiosks on the east side. Take the green line east heading to Norwalk. Get off at Harbor Freeway Station and transfer to the 950X bus heading to San Pedro. Tell the bus driver you want to get off at the cruise terminal though you should see your ship when you get close.
Alternatively, you can continue on the green line heading east and change to the blue line at Willowbrook station to get to Long Beach. From Long Beach, take a taxi to the cruise terminal or bus CE142 to get to San Pedro. At Willowbrook, taking the blue line north will get you downtown. http://www.lawa.org/welcome_lax.aspx?id=1240
Shared van services operating from LAX include Primetimeshuttle and Supershuttle.
A taxi to World Cruise Center from LAX should cost $55 + tip according to taxiwiz.com
Flyaway bus service is available to various locations including Long Beach and Union Station (downtown and most frequent). http://www.lawa.org/FlyAway/
Money and Tipping
When dining in restaurants, it is customary to leave 15-20% tip for good service since servers typically make minimum wage. Taxi drivers should be tipped the same rate. Banks and ATM's can be easily found in the city centers of both San Pedro and Long Beach.

Local Transportation
There is now express bus service from San Pedro to downtown Los Angeles with a stop outside the cruise terminal on Harbor Blvd. You can take route 950X on the silver busway line which was extended to San Pedro in Dec 2015 and replaced route 450. Buses typically run every 20-30 minutes and it takes about an hour to get downtown. Route and schedules available at the LA metro website. Fare is $2.50 (Oct 2016, 2 hr transfer available if using a TAP card). https://www.metro.net/riding/maps/
If you want to go by metro or if you want to go to Long Beach, you will have to head there first. Walk south from the cruise terminal with the water on your left to 7th St and Harbor Blvd by the Maritime Museum. If the trolley is running, you can pay $1 and save a bit of a walk. From historic downtown San Pedro, take the CE142 bus to Long Beach Transit Mall (20 mins, $1.50 Jan 2016). From the mall, you can take the blue line metro into LA (60 min).
To use the LA metro system, you need to purchase a TAP card for $1 plus stored value ($1.75 for a 1-way fare, $3.50, $5, $10, $20) or a pass loaded on to it. Fares are good for one way travel up to 2 hrs (stops and returns not allowed, valid for buses and metro). You can optionally load a daypass for $7 (breaks even on four trips). TAP cards can be purchased from kiosks at any metro station which accept cash, credit or debit card. You can load value (cash only) onto a TAP card on buses or purchase a TAP card with a daypass for $8. TAP cards are also available from select retailers including Ralph's supermarket though the cost is $2. (Jan 2016)
A free trolley service runs from the cruise terminal to downtown San Pedro Sat and Sun from 12pm to 6pm. https://sanpedro.com/community-information/san-pedro-downtown-trolley/
In Long Beach, the city's Passport bus service is free in the city center. Route C will take you to the aquarium and out to the Queen Mary.
A taxi from downtown Long Beach to the World Cruise Terminal should cost around $20 plus tip according to taxiwiz.com
Hotels
Search hotels in Los Angeles here
Search hotels in Long Beach here
Sights
Los Angeles
Hollywood - Hollywood Blvd has the Walk of Fame, Mann's Chinese Theater and is a central tourist spot. There is a good view of the Hollywood sign from the upper floors of Hollywood and Highland Center. Metro Hollywood/Highland.
Universal Studios - If you don't want to go inside the theme park, there are restaurants and shopping outside in Universal City. Universal Studios entry is $90-115 depending on day and season (May 2016). Metro Universal City (cross the street to take the free shuttle).
Beverly Hills - This area is the home of the rich and famous with luxury stores on Rodeo Drive. Not accessible by metro.
Olvera Street - The historic center of LA by downtown has a Mexican market and restaurants. Metro Union Station or Dash Bus.
Disney Music Center - This Frank Gehrey building can be found downtown. Free tours available. Metro Civic Center.
La Brea Tar Pits - The George C. Page Museum displays ancient animals found in the pits. http://goo.gl/maps/Kvey1
Getty Museum- LA's most famoust art museum. There are two museums, Getty Center (the main one) and Getty Villa.
Long Beach
Aquarium of the Pacific - One of the areas most popular attractions. Entry $29.95 (May 2016).
Queen Mary - This ocean liner has been converted into a hotel. Tours availabe for $34 (May 2016).
San Pedro
Shopping & Restaurants
In Long Beach, City Place shopping center is north of the transit mall and has a Walmart, Nordstrom Rack and Ross Dress For Less. There are a lot of restaurants along Pine Ave. There is a Famous Dave's BBQ restaurant by the waterfront.
Some famous LA eateries
Pinks - famous for their hotdogs. 709 N La Brea Ave Los Angeles, California 90038
Philippe's - French dip beef sandwiches. By Union Station/Chinatown. 1518 N Gower St, CA 90028
Roscoe's Chicken and Waffles - Various locations including Hollywood.
In-n-Out Burger - Regional fast food chain with a simple menu and super fresh ingredients. Various locations - Hollywood location at 7009 Sunset Boulevard, Hollywood, CA 90028
Cole's French Dip - competition for Philippe's in downtown. 118 East 6th Street Los Angeles, CA 90014
Jody Maroni's Sausage Kingdom (Venice Beach, Citywalk, LAX)
Pann's Restaurant - A coffee shop and restaurant featured in many movies and tv shows
The Apple Pan - A burger restaurant stuck in the 40's in West Hollywood
Langer's Deli - A NY style deli with hot pastrami sandwiches. Metro station Westlake/MacArthur Park
Howlin' Rays - LA's newest popular restaurant serving Nashville-style fried chicken in Chinatown
Cielito Lindo - Considered to have the best taquitos. Located at the north end of Olvera street.
Shake Shack - This popular NY burger chain has a location near Hollywood and Vine
In San Pedro, there is a Von's Supermarket at 1221 S Gaffey St (at 13th Ave) and a Ralph's Supermarket further north at 1050 N Western Ave (with a In-n-Out Burger in the same complex). There is an Ocean Liquor Market at 233 N Harbor Blvd across the street from the cruise terminal.
Post Offices
In San Pedro, there is a post office at 839 South Beacon St (at 8th St). In Downtown Long Beach, the post office is at 300 Long Beach Blvd.
Internet
Cafes and some restaurants may provide free wifi to customers. The cruise terminal may have free wifi.
Maps
Long Beach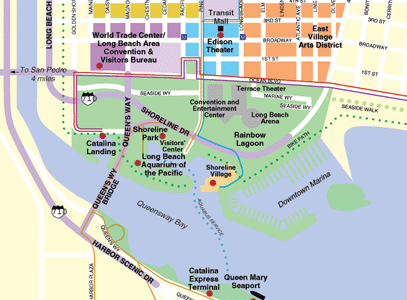 Los Angeles
Downtown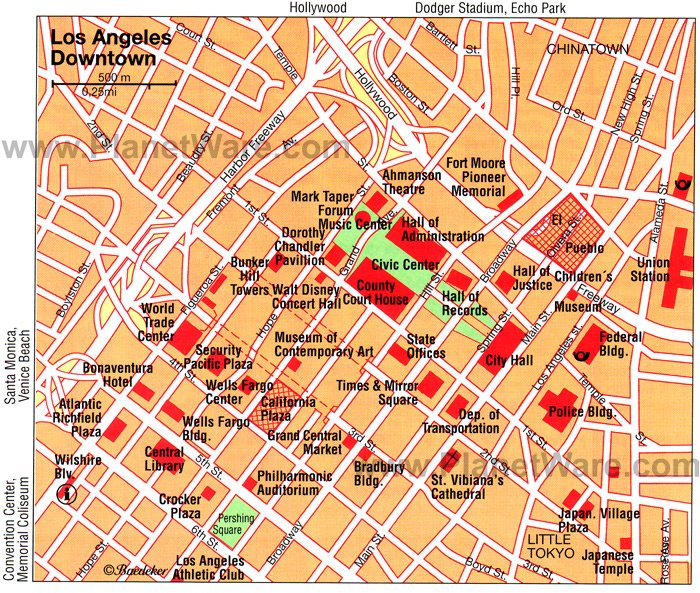 Hollywood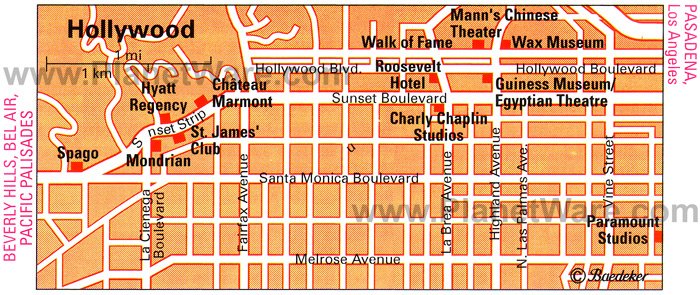 Metro Map
Weather
Los Angeles Weather Forecast
Comments