Osaka, Japan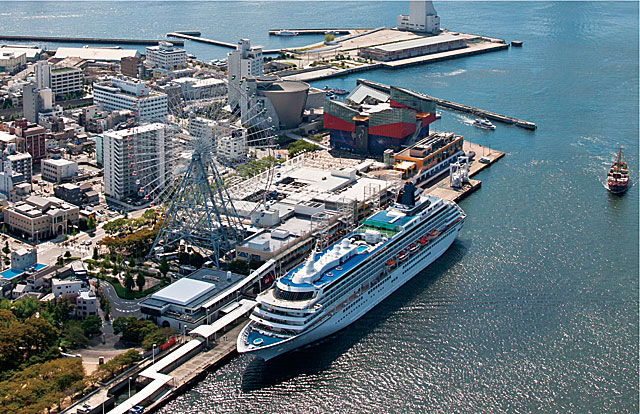 Tempozan Pier
Introduction
Osaka is a major city in Japan and a jumping off point to the temple city of Kyoto.
Where You're Docked
Cruise ships dock at Tempozan Passenger Terminal conveniently located near the Osaka Aquarium and beside the Tempozan Marketplace Mall and Ferris Wheel. Osakako subway station (C11) is a couple of blocks to the south.
Osaka Port Info - http://www.mlit.go.jp/kankocho/cruise/detail/029/index.html
Money and Tipping
Japan's currency is the Yen (¥ JPY) and foreign currencies are typically not accepted. You can find currency exchange at post offices. The majority of ATM's in Japan DO NOT accept foreign bank cards. The exception are ATM's at 7-11 and Lawson convenience stores and at the post office. Citibank and Aeon bank ATM's may also accept foreign cards. Make sure you do the correct conversion for the amount you want to take out and insert your card the correct way. Tipping is not customary in Asia. http://www.japan-guide.com/e/e2208.html
Credit cards are not as widely accepted as in North America or Europe so make sure you have cash on hand. Typically, hotels and large department stores will accept cards but not smaller shops and restaurants.

Local Transportation
Like most major Japanese cities, Osaka's subway system is fast and efficient. Fares are zone based and can be bought at ticket machines at the station. Fares start at 200 Yen. Hold on to your ticket since you will need it to exit. The eco card, a one day pass is available for ¥800 (¥600 on weekends and holidays, Jan 2014) and includes discounts at some attractions. http://www.kotsu.city.osaka.lg.jp/foreign/english/
To/From the Airport
Kansai International Airport (KIX) is the main airport in the region approximiately 50km south of Osaka. There is regular train service to Osaka Station where you can connect with the subway.
Airport bus services also run to Osaka and Tempozan Passenger Terminal. http://www.kate.co.jp/en/
Hotels
Search hotels in Osaka here
Sights
Osaka Aquarium - One of the largest aquariums in Asia, the feature attraction is a whale shark in a multi-story tank.
Osaka Castle - A reconstructed castle in a nice park. There are some exhibits inside. Walk from Tanimachi 4-chome station (C18/T23)
Shinsekai - A rebuilt historic district, the main attraction here is the Tsutenaku Tower. Accessed from Ebisucho Station (K18).
Universal Studios Japan - worth a visit only if here for a couple of days though everything will be in Japanese
Kyoto - 35 minutes to an hour by train from Osaka, this historic area has many temples and is the best place to possibly spot a Geisha. Not to be missed temples include Temple of the Golden Pavilion and Kiyomizu-Dera.
Shopping & Restaurants
Osaka's main covered arcade is in the Shinsaibashi area (N15/M19). Cross the river to Dotonbori to find restaurants, some with wacky statues at the entrance including a giant crab. Be sure to get a bowl of noodles at Kinryu Ramen with the giant dragon outside. Pay and order at the vending machine and then give your receipt to the staff. Also look for the giant running man sign (more impressive at night).
100 Yen stores have great bargains and unique products. Daiso is the largest chain.
Try okonomiyaki, a savoury pancake prepared in specialty restaurants on a grill in front of you. The Osaka style is the predominant version within Japan. Tempozan Marketplace has a food theme park inside where you can try this dish.
Post Office
Osakachikko post office is a couple blocks north of Osakako subway station by the cruise terminal.
Internet
Cafes and restaurants may provide free wifi for customers. There is free wifi available in train stations and major centers. http://ofw-oer.com/en/
Maps
City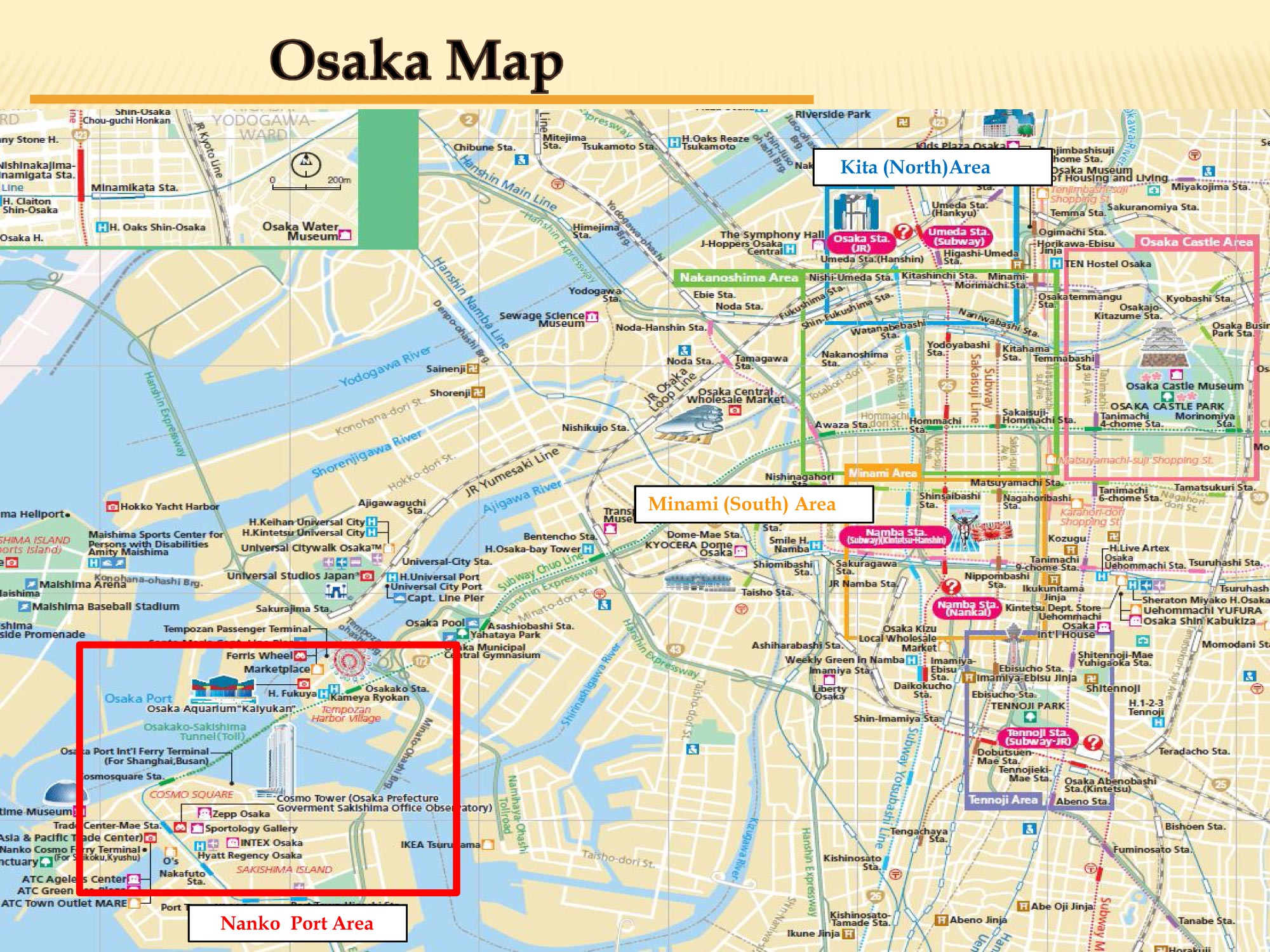 PDF map and guide here http://www.jnto.go.jp/eng/location/rtg/pdf/pg-505.pdf
Shinsaibashi Area
Subway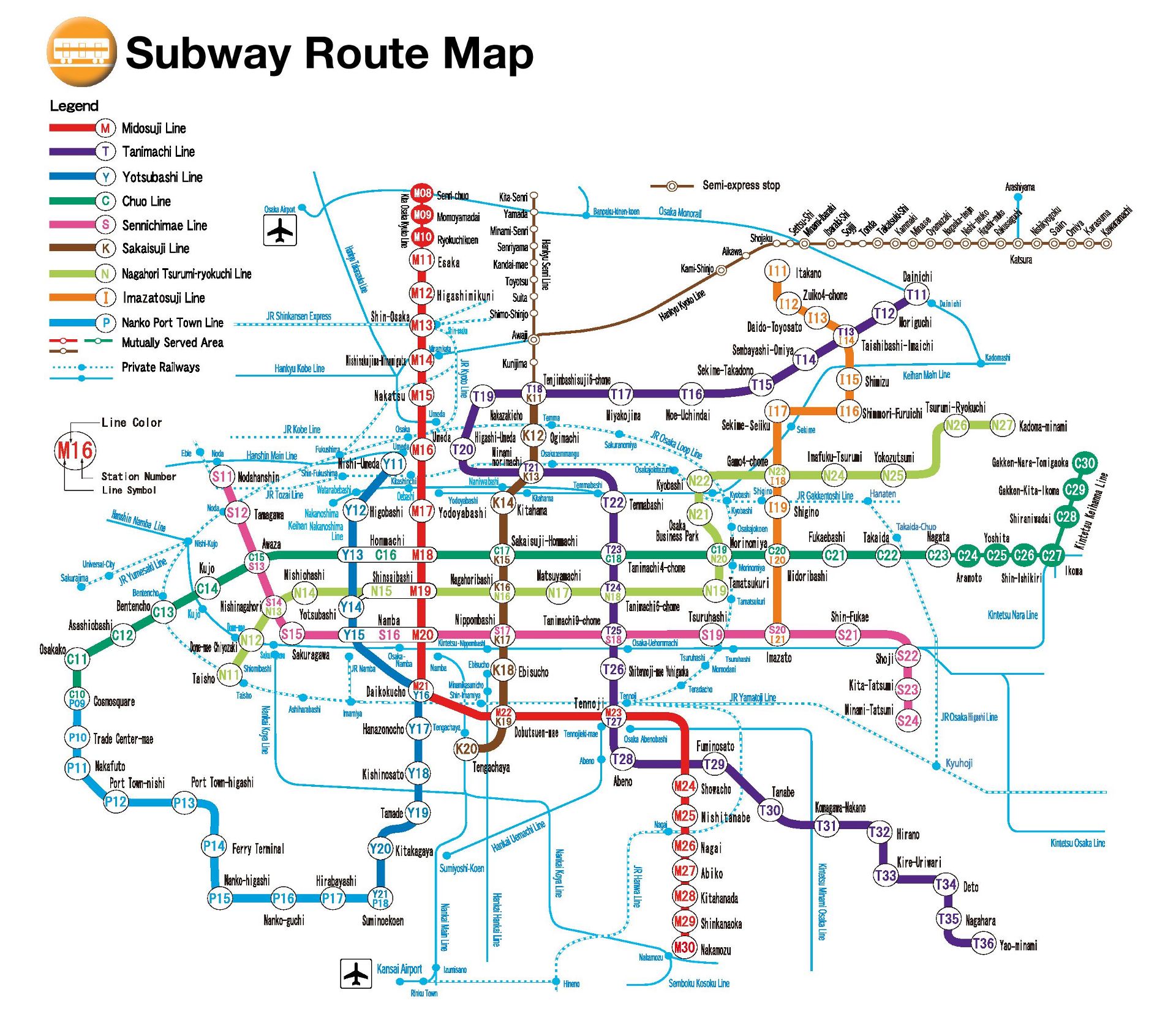 PDF subway map https://www.jrpass.com/maps/osaka_metro_map.pdf
Weather
Osaka Weather Forecast
Suggested Port Guides
Comments