Port Douglas, Australia
)

Port Douglas
Introduction
Port Douglas is a small town on the Australian east coast and is a jumping off point to the Great Barrier Reef. Cairns is 40 miles to the southeast.
Where You're Docked
Cruise ships tender to the marina on the western side where there is a small shopping center. The main town is around the corner.
Money and Tipping
Australia's currency is the Australian dollar (AUD). Bills are plastic with coins for $2 and under. Australia has eliminated the penny and cash transactions are rounded up or down to the nearest nickel. Taxes are inclusive on sticker prices of items and tipping is not common. Money exchange can be done at any bank. When changing money, make sure you get a good rate and don't pay commission. ATM's are readily available. Tipping is not customary in Australia.

Local Transportation
The town is small and can be accessed by walking
Hotels
Search hotels in Port Douglas here
Sights
The main thing to do in Port Douglas is to arrange a day trip to the Great Barrier Reef. There is not much in town other than a long beach on the eastern side.
Shopping & Restaurants
The main street is Macrossan St with plenty of restaurants and shops. There is a Coles supermarket here. Sunday markets are held at Anzac Park between 8am and 1:30pm.
Internet
Cafes and restaurants may provide free wifi to customers.
Maps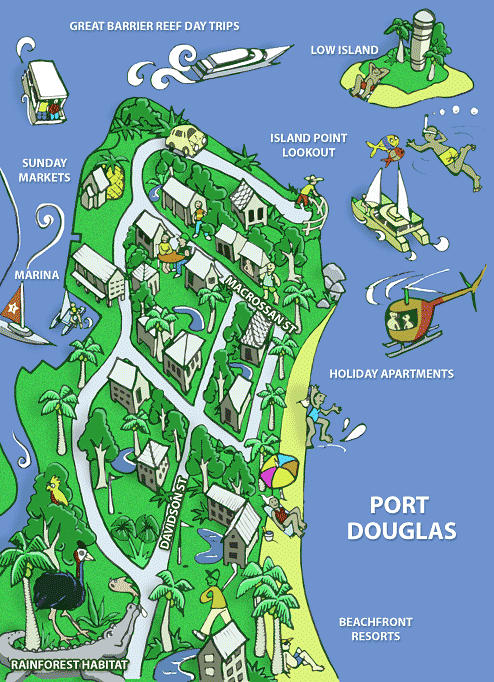 Weather
Port Douglas Weather Forecast
Comments