Port Said, Egypt
Great Pyramids, Giza
Introduction
Port Said is a small city by the entrance of the Suez Canal and a gateway for going to Cairo.
Where You're Docked
Cruise ships dock right in the city beside beside Shari Palestina street marked on the map below.
Money and Tipping
Egypt's currency is the Egyptian Pound (EGP) commonly appreviated as LE. US dollars are widely accepted especially in tourist areas. Baksheesh (tipping) is a common custom though annoying if someone follows you around wanting to act as your guide. Try to get some one pound coins to tip toilet attendants and they also make a nice souvenir since they have a picture of King Tut on them. Tips in restaurant should be around 10% and toilet attendants should be given 3-5 LE.

Local Transportation
If you want to see the Great Pyramids, it is recommended to take a tour, either a ship-sponsored or private organized one.
The best way to get around in Port Said is to walk or take a taxi. There aren't many attractions in Port Said though.
Hotels
Search hotels in Port Said here
Search hotels in Cairo here
Sights
Cairo
Great Pyramids & Sphinx - You will be typically given an opportunity to visit the tomb of one of the pyramids. It is discouraged since you have to crouch along in a narrow tunnel and it is a bit claustraphobic. However, it is quite an experience if you are up for it. Tours will typically take you to a viewpoint as well. Entry fee 60 LE and 30 or 100 LE (Dec 2011) more to see a tomb depending on which one is open. No cameras are allowed inside.
Egyptian Museum - Straight out of Indiana Jones, this old museum has dusty display cases filled with Egypt's treasures. You will need to climb stairs to get to the second level. There is an additonal fee to see the royal mummies. Don't miss King Tutankhamun's treasures including his golden death mask in a small air conditioned section in the back. Entry 60 LE (extra 100 LE for mummies, Dec 2011)
Sakkara Step Pyramid - This pyramid is one of the oldest in the area and has a small temple complex surrounding it. Entry 60 LE. If given the option of Sakkara or the museum, I would personally choose the museum to see King Tut's treasures.
Shopping & Restaurants
There may be a market setup on the cruise pier. Prices will all be in US dollars. There are restaurants on the main streets outside of the port and heading towards the beach to the north.
Internet
Cafes and restaurants may provide free wifi to customers.
Maps (right-click to save)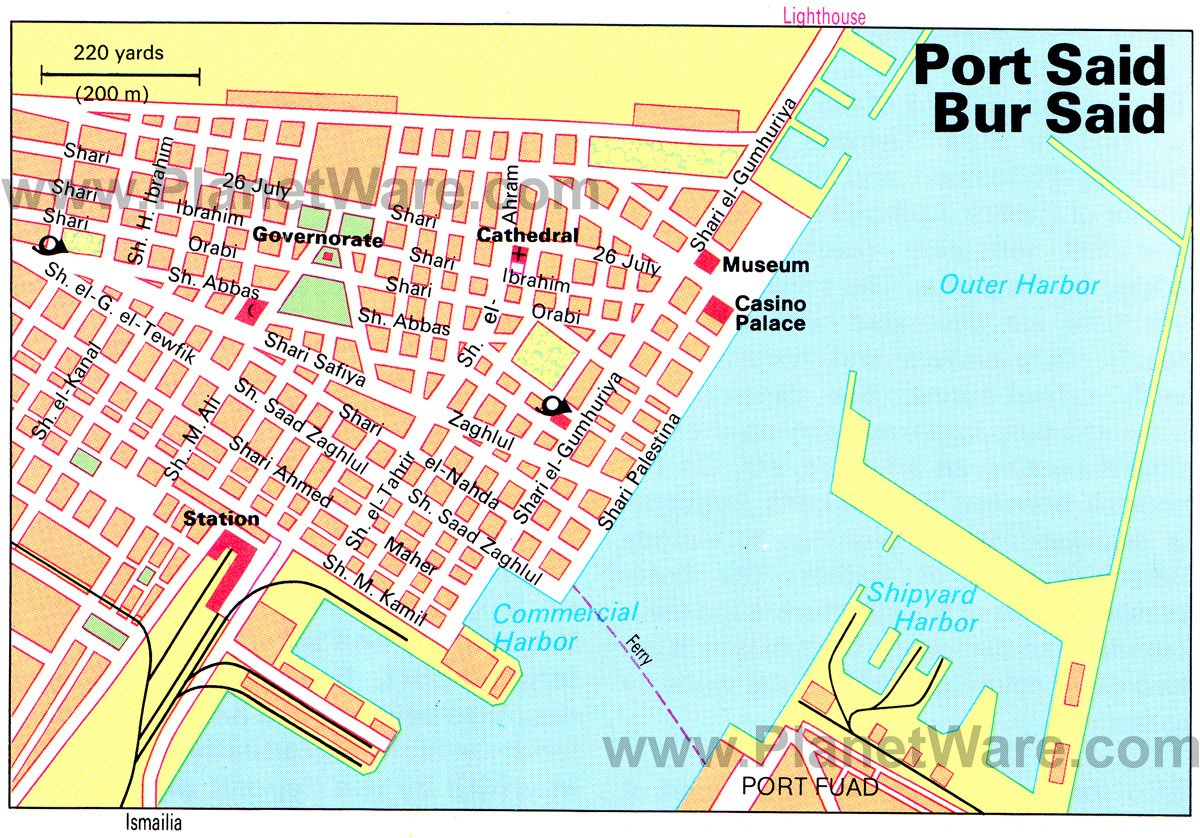 Weather
Port Said Weather Forecast
Comments