Top Five Sailaways
Aug 19, 2012
With large cruise ships often forced to used container ports in gritty industrial areas, you'll learn to appreciate a scenic sailaway. Here's the top five.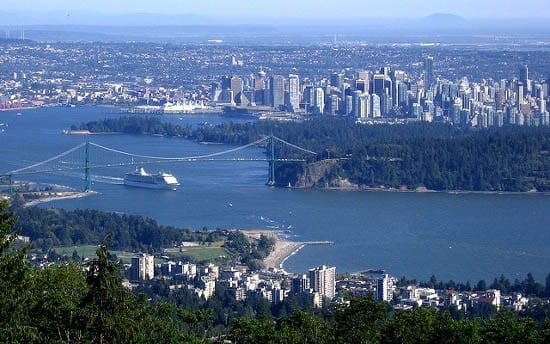 5. Vancouver
Vancouver's main cruise terminals are situated downtown in Burrard Inlet and in the shadow of the North Shore mountains. As you leave the harbour, you'll pass the busy waterway dodging float planes and the Sea Bus before passing underneath the Lions Gate Bridge.

4. San Francisco
San Francisco's cruise terminal is beside touristy Pier 39 and Fisherman's Wharf and a short tram ride to Market Street downtown. As you sailaway, you'll pass Alcatraz on your right and sail under the iconic Golden Gate Bridge.

3. Sydney
Ships dock at either the conveniently located Overseas Passenger Terminal in Circular Quay or on the other side of Sydney Harbour Bridge near Darling Harbour. Either pier will provide great views of the Central Business District and the Sydney Opera House as you sail away. White Bay Terminal opened in 2013 moving the cruise ship pier to the west side of Darling Harbour.

2. Hong Kong
Why pay for a harbour cruise when you can sail into busy Hong Kong harbour on a cruise ship. Until the new cruise terminal is built at the old Kai Tak airport site, smaller ships will continue to use Ocean Terminal in the heart of Tsim Sha Tsui district on the Kowloon mainland. Some ships are given permission to sail between Kowloon and Hong Kong Island. You may catch the Symphony of Lights laser and light show if your departure is timed right.

1. Venice
Watching a large cruise ship pass the narrow channel to Stazzione Maritima is quite the sight, from either onboard the ship itself or onshore. Tugs may assist in navigation helping out in tight turns. Many ships will play Andrea Bocelli's "Time to Say Goodbye" on the loudspeaker during the long passage to the terminal. Make sure you are on the correct side of the ship to see St Mark's Square and Doge's Palace. This won't last since the port authority has announced that large cruise ships will have to take a new route starting Nov 2014.

Comments