Zeebrugge, Belgium
Brugge, Belgium
Introduction
Zeebruge is a commercial port in Belgium close to the cities of Brugge (10 miles to the south) and Ghent (40 miles to the southeast). Belgium's capital, Brussels, is 70 miles to the southeast.
Where You're Docked
Cruise ships typically dock at Zweedse Kaai. Shuttles are usually provided to the port gate on Kustlaan street where you can walk to the nearest tram stop, Zeebrugge-Kerk (Church). Shuttles may be offered to the nearby seaside town of Blankenberge to the west where you can catch a train to Brugge. Port map linked from here http://www.poz.be/en/node/534 and schedule here http://www.zedis.be/lijsten/SchepenAfgevaren.aspx?agent=0 Port map linked from here https://www.portofzeebrugge.be/en/port/port-technical/port-map
Money and Tipping
Belgium's currency is the Euro (EUR). Though not expected, it is common to leave a small tip (5-10%) when eating at restaurants or taking a taxi.

Local Transportation
To get to Brugge from the port gate, you'll first need to take the coast tram to Blankenberge-Station. Tram stops near Zweedse Kaai are Zeebrugge Kerk (church) or Zeebrugge-Zeesluis. Ticket is €2 (Aug 2014). In Blankenberge, transfer at the adjacent train station to continue to Brugge. Trains run hourly with more frequency in the summer. Tickets are approx €6 return and travel time is 13 minutes. Train service from Zeebrugge-Strand station runs in the summer months only and is less convenient if docked at Zweedse Kaai. Train station Zeebrugge-Dorp is closer to the main cruise pier and has trains to Brugge and Ghent September to June and weekdays only. Check train schedules here http://www.belgianrail.be/en and tram info here http://www.delijn.be/en
Trains to Brussels run hourly from Blankenberge to Brussels-Centraal and cost €30 return. For train schedules and prices, check here http://www.b-rail.be/main/E/
The coast tram is a convenient way to visit other seaside towns like Oostende, Heist-aan-Zee and De Haan.
Hotels
Search hotels in Zeebrugge here
Search hotels in Brussels here
Sights
Brugge - This preserved medieval walled city is packed with tourists in the summer months. The main square is Grote Markt and you can climb the belfry for a nice view of the square. Michaelangelo's famous statue, Madonna of Bruges, can be found in Church of Our Lady and
Ghent - A large city with medieval roots. Don't miss St. Bavo's Cathedral with the Ghent Altarpiece.
Brussels - The capital of Belgium and headquarters of the EU. Sights in the old city are centered around Grand Place-Grote Markt.
Shopping & Restaurants
Belgium is famous for its fries (with mayo), waffles, chocolates and beer. Chocolate shops can be found everywhere. There is a Carrefour west of the church along the main road in Zeebrugge.
In Belgium, you can find restaurants streets on Rue du Marché aux Fromages (south of Grand Place) and Rue des Bouchers (north of Grand Place and more of a tourist trap).
Internet
Cafes or restaurants may provide free wifi for customers.
Maps
Zeebrugge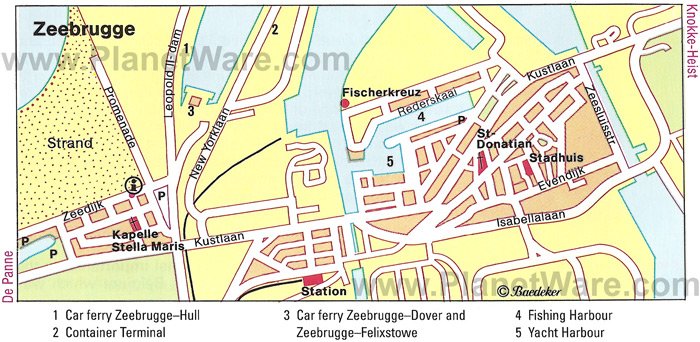 Brussels
PDF maps
Zeebrugge - here
Brugge - here
Ghent - here
Brussels - here

Weather
Zeebrugge Weather Forecast
Comments