Helsinki, Finland
| | |
| --- | --- |
| Helsinki Cathedral | |
Introduction
Helsinki is the capital of Finland.
Where You're Docked
Large ships are docked at two possible piers southwest of city, Hernesaari or West Harbour. Smaller ships can dock much closer to the city at South Harbour or Katajanokka relatively close to market square.
If a shuttle is offered, it may drop off at Erottajankatu across the street from the western end of the esplanade.
Money & Tipping
| | |
| --- | --- |
| | Unlike its Scandivian neighbours, Finland's currency is the Euro (EUR). A small tip (5-10%) is not expected but appreciated when dining in restaurants or taking a taxi. |
Local Transportation
Helsinki has a tram network if you want to venture further out. Tram only tickets are €2.20. Buses are €3 for a single ticket purchased from the driver, €2.50 if bought from a machine. A 2 hour ticket is €4 while a day pass is €8 (Feb 2014).
You can take the bus 14 and transfer to a tram to get into town if docked at Hernesaari. Exit the port gates and the stop will be on the first street to your right on Hernesaarenranta.
If docked at Western Quay, you need to walk approximately a mile just to get out of the pier area. You will eventually see a Radisson Hotel. Cross the street and on the street to the left of the hotel is the tram stop, Hietalahti. If you've walked this far already, it is only another mile to get to town or you can take tram 6 getting off at Erottaja stop. You may want to pay for the shuttle if docked here to save a bit of walking.
Hotels
Search hotels in Helsinki here
Day in Helsinki
Starting at the end of the esplanade, take a walk through which will lead you to Market Square. Grab a bite to eat here or do some souvenir shopping. Head north one block over to Senate Square where you can climb the steps to take a look at the Helsinki Cathedral. Two blocks to the east is the Russian Cathedral if you're not churched out. Head back to Senate Square and walk west along Aleksanterinkatu. There are lots of stores and restaurants in this area. Turn right before the main road to check out the railway station. Your next stop, the Rock Church, is a bit hard to find so you'll need a map. It is about 3/4 of a mile away almost directly west. The #2 tram (previously 3T) will get you close if you're tired of walking.
If you have time, you can take a bus or tram to see the Sibelius Monument since it is out of the way. Use the journey planner from the Helsinki Transit website for the route.
Shopping & Restaurants
There is a big department store, Stockmann at the western end of the esplanade on Mannerheiminte. There is a supermarket in the basement. Mannerheiminte has several malls including shops in the bus station.
Internet
Restaurants and cafes may have free Internet as well as the two McDonald's in the city center.
Been Here Before
Take a ferry from market square to Suomenlinna fortress.
Maps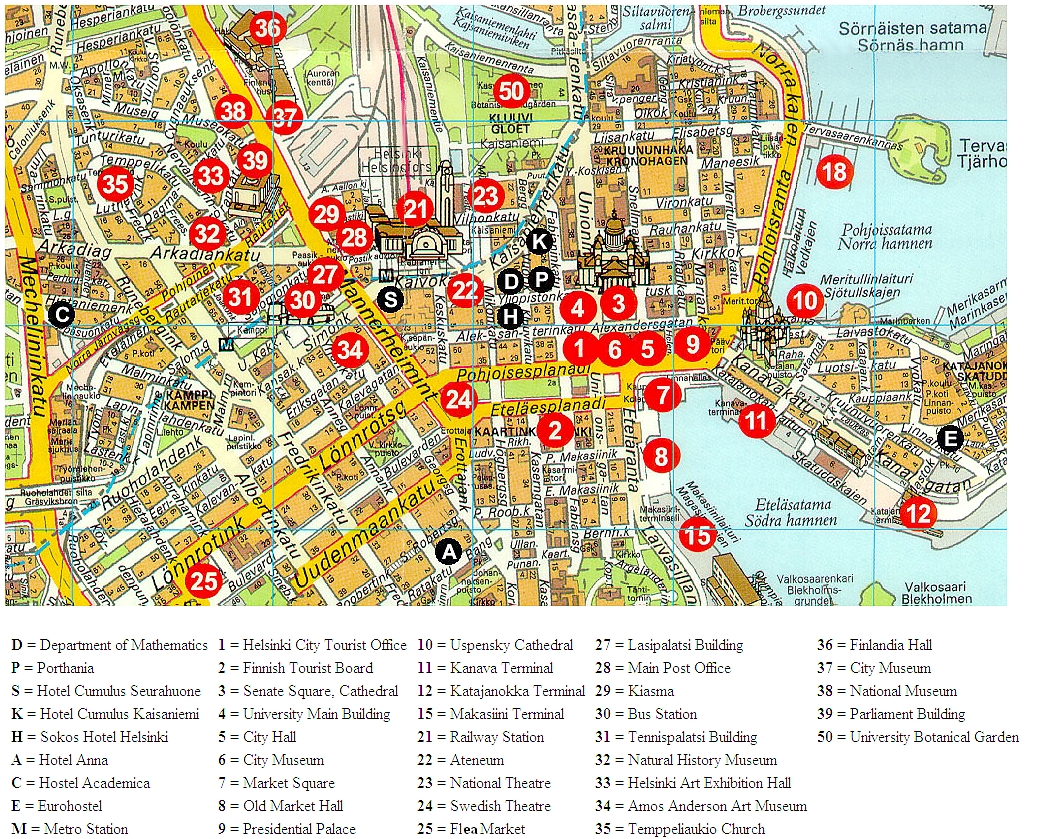 Excellent pdf map here - http://www.visithelsinki.fi/sites/visithelsinki.fi/files/files/Esitteet/EN/printable_helsinki_map_2012.pdf
Weather